Recently I realized that my oil skin has becomeless shiny, and also my skin has become fairer!!!!!!!!!!
WHICH BRAND?
Popular Taiwanese brand Neogence's first anti-aging series "Hyaluronic Acid DNA Repairing Series".

WHY ANTI-AGING?
Neogence's R&D team discovered that when the skin lacks moisture, it becomes dry and rough. Long-term shortage of moisture and environmental pollution, advances the appearance of aging, including fine lines, dullness, enlarged pores and decreasing elasticity.
WHAT RANGE?
The "HYALURONIC ACID DNA REPAIRING SERIES" aims at skin dryness, environmental factor, life habits, and various causes that could trigger skin aging, it comprehensively and further upgrades the way of moisturizing & anti-aging.
Hyaluronic Acid DNA Moisturizing Lotion
·
Plump and moist serum texture, creating a ultra aqua-rich skin.
The addition of unique anti-wrinkle H.F.S
deeply penetrates on skin to replenish moisture, cpremium-grade pure Hyaluronic Acid and natural Trehalose TORNARE® form a highly effective water supply net to maintain the skin's ability of moisturizing skin effectively.

The day and night skin repairing formula can effectively protect skin form irritation from environmental factors, and improve skin capability of self-healing. The serum-like texture can be absorbed quickly, hydrating skin deeply and creating a ultra aqua-rich skin.
Hyaluronic Acid DNA Hydrating Serum
·
The secret to Youthful Skin
·
Deep Hydration x Skin Repair & Protection… Non-stop, Day & Night
·
Five minutes of 'Muscle Massage' Everyday to awaken your skin!
Formulated specially for women with hectic lifestyles, the premium-grade pure Hyaluronic Acid and Hyalo-Oligo™ short-chain Hyaluronic Acid, complemented with natural marine algae extract Toranre™, MELHYDRAN® extracted from honey and WSK™(Tremella Hyaluronic Acid)。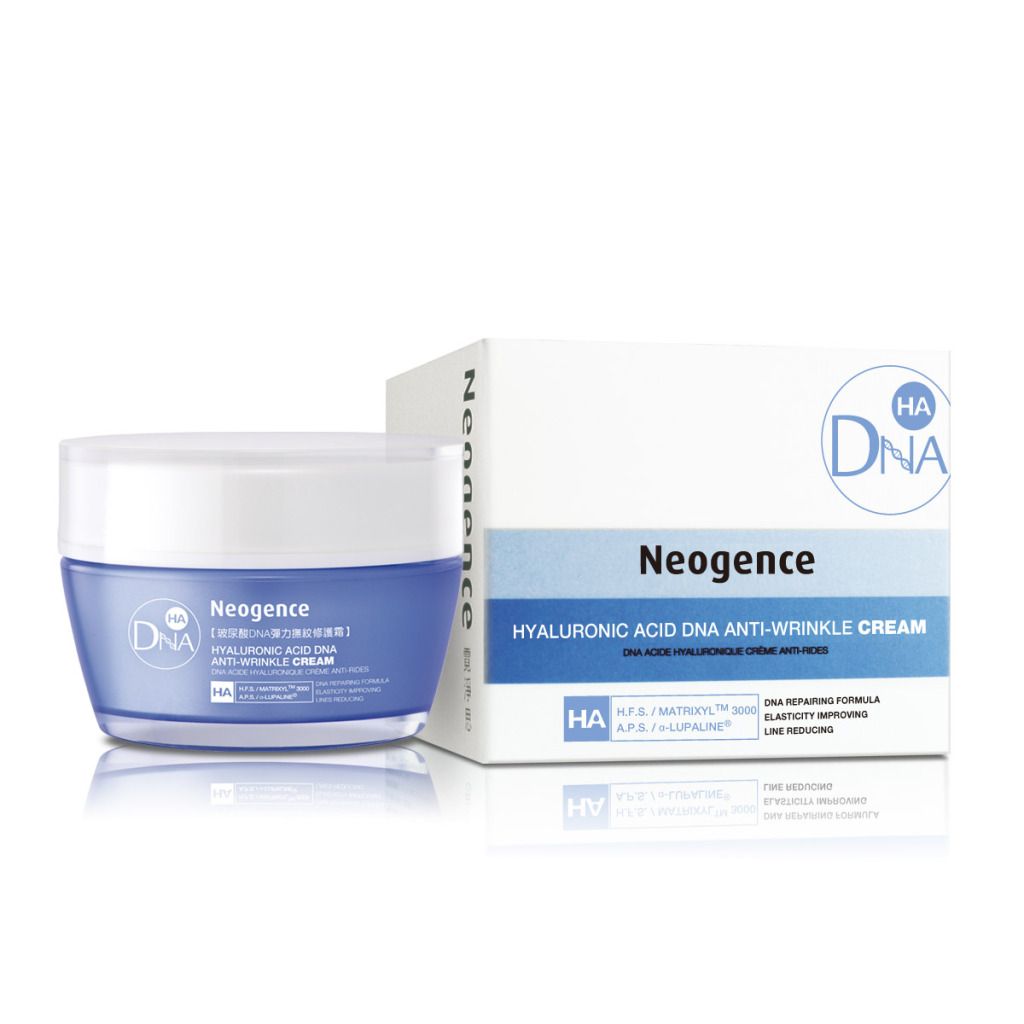 Hyaluronic Acid DNA Hydrating Cream
·
Increases elasticity, anti-aging, firms and delays
first stage of aging and wrinkles appearance
IH.F.S. (Hyaluronic Filling Spheres) deeply penetrates into the skin and smooths fine lines effectively. MATRIXYLTM 3000 intensively smooths and improves wrinkles. Hyaluronic Acid and Ceramide form a highly effective hydrating membrane, which is capable of deep hydration and repairing epidermis. The skin repairing formula "α-Lupaline®+ A.P.S. (Anti-Pollution System)" protects and repairs the irritation from environmental factors to skin day and night, improves self-healing mechanism and reduces roughness and darkness.
MY REVIEW
I have been using
Hyaluronic Acid DNA Repairing Series for a couple of weeks now! SO HAPPY that these 3 products hydrates my skin so much now! Usually my skin is really oily no matter what hydrating products I use! This time, my skin definitely produces lesser sebum throughout the day. BYE BYE SHINE! :D Definitely not totally no shine but it improves! *MUAHS MUAHS*
From what I know, when the skin is hydrated, melanin somehow becomes lesser! ;D That is the reason why I also become fairer! HAPPY TTM!
I finally booked my facial after 3 months. MAN, was I that busy? *LAZY WOMAN*
I also went to the HARRY POTTER Exhibition!!!!! AWESOME. I was practically filled up with tears when I was looking at the artifacts! HARRY POTTER is the BEST!!!!!!!
Thank you Neogence for producing such awesome products!
Neogence is available exclusively at all Sa Sa Cosmetic Stores.