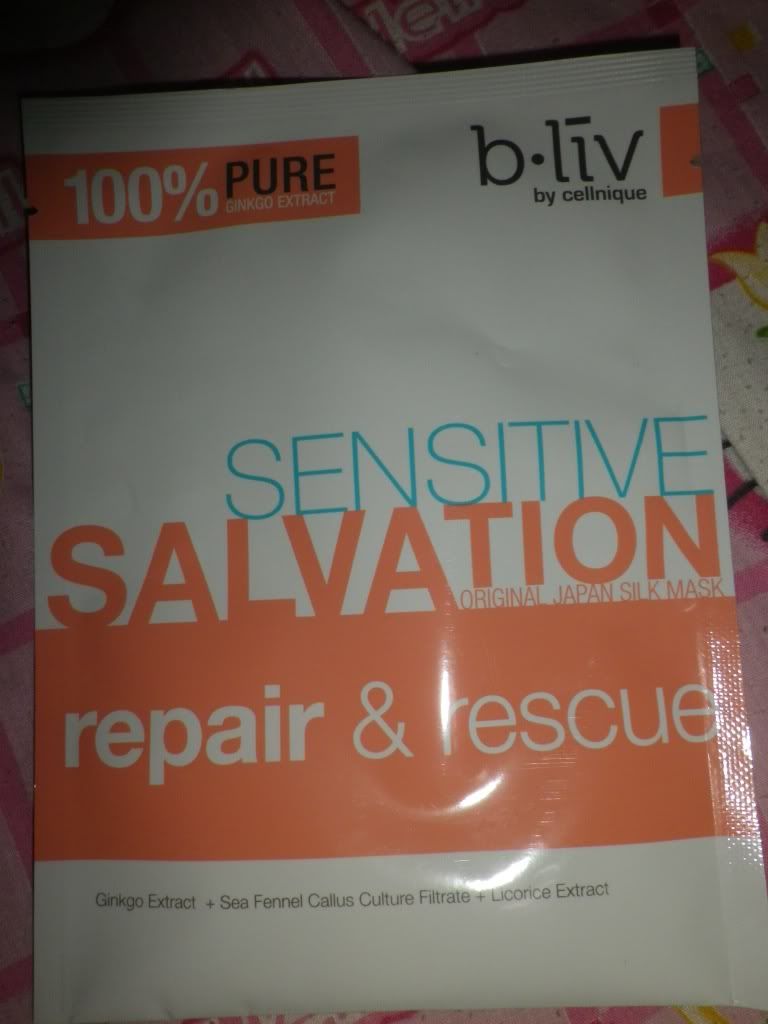 Always great to try new masks and I only buy two types of new masks this year and thank you for people who passed me masks to try! :D
I just love how
b.liv
name their products! Some cute names are
got oil relief
,
spots got shot
,
submerge me
... HOW CUTE ARE THE NAMES!:))))) Too bad I'm currently using Neogence DNA (review soon), and upcoming LOVEMORE (YEAH! woohoo~~), and Haruhada skincares. If not I'll definitely want to try b.liv products! Heard so many positive feedbacks~~~~~~
Wow, Gingko, Sea Fennel, Licorice are all VERY VERY NEW ingredients used in skincare to me and I know nothing about their benefits... so I did a little bit of research. :) I only know Gingko that my mom will cook that is good for the body. lol. Copy and pasted summary below~~~ note that it may not be that accurate since the information are found online! Don't come and bother me if they are not correct~~
Ginkgo Extract - Antioxidant rich and does have a long history of use in Asia as an regenerative herb. Ginkgo has been used in Chinese medicine for a least a thousand years to improve circulation, memory and general rejuvenation.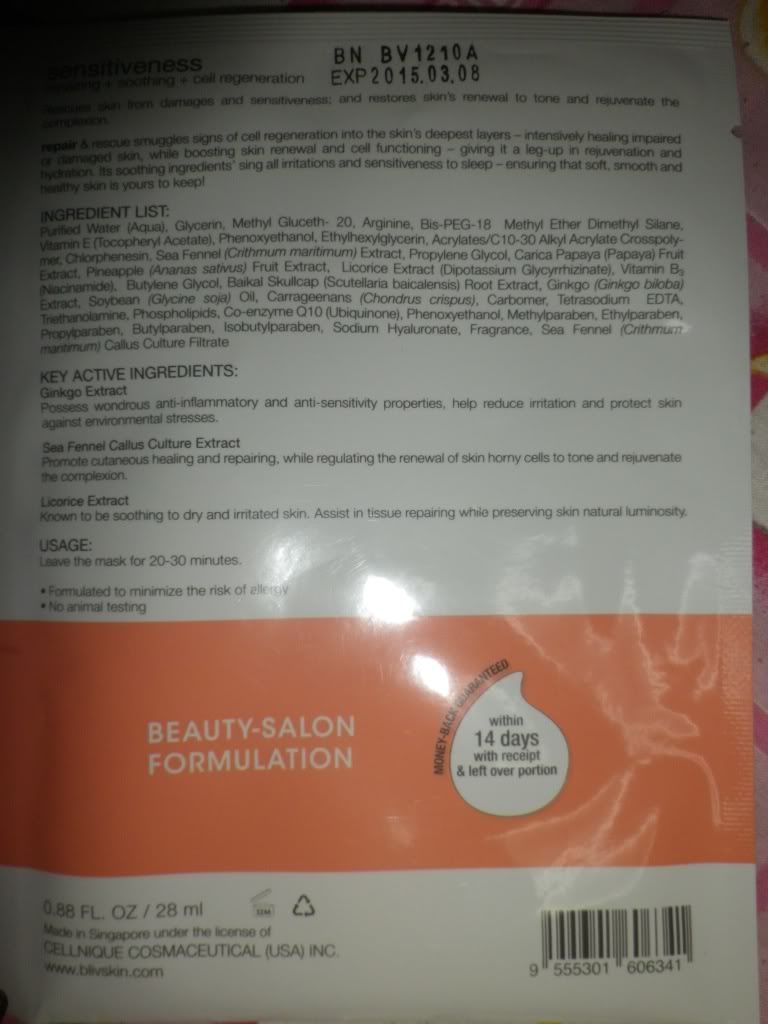 repair and rescue - Oxygen repairing mask (found from b.liv)
• Soothing and anti-inflammatory properties calm irritation, redness and burning sensations
• Helps heal red, rough, damaged or weakened skin.
• Tones and rejuvenates the complexion.
• Provides instant hydration and helps skin preserve its optimum moisture balance.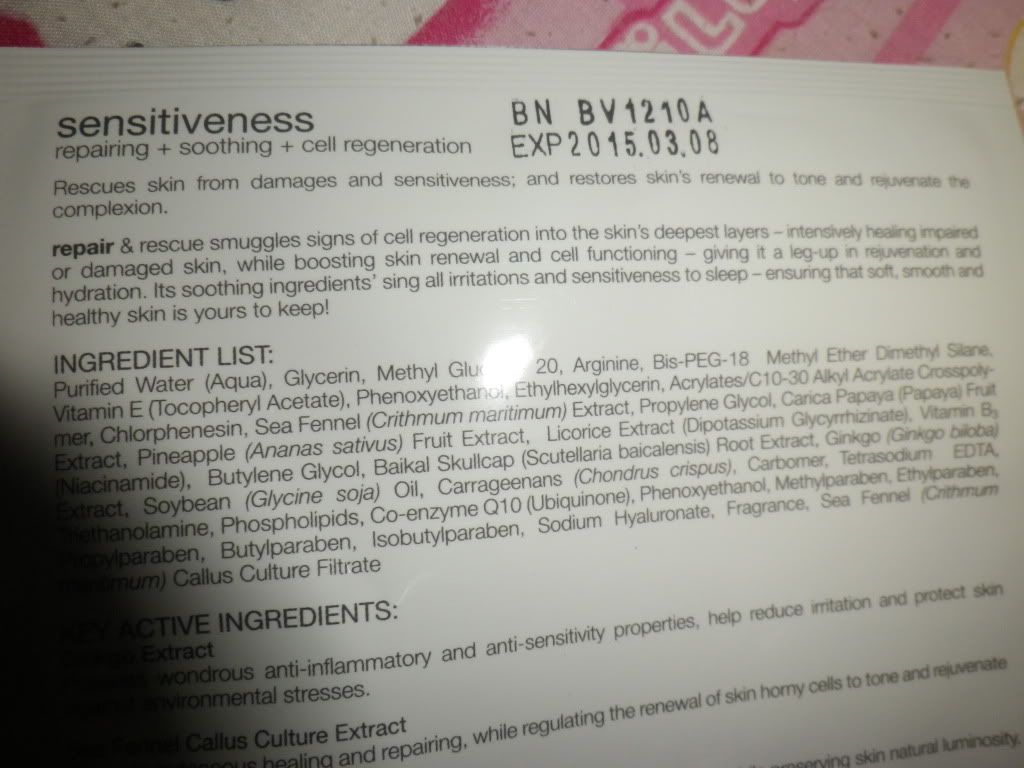 omg, so are you ready and used to my .............. bare photos...... definitely not the best thing to see at night before you sleep.... ;/
Getting really reluctant to show my bare face.... ~_~ truely zero edit.. :(
WHY OH WHY, Why can't I have good + fair + smooth + perfect skin?
T.O.P- After cleansing, toner serum, and before applying mask
Bottom - immediately after I removed the mask! Not sure if it is the angle or what... but my face looks fuller, and I feel my face fuller and more hydrated of cause! Yups, I never waste the essence and will put the mask at my neck!
After patting the remaining essence onto the mask.
I WILL DEFINITELY BUY b.liv masks, skin care... etc when i can finish my masks and skincare first. THANK YOU FOR RESCUING ME! :)
What the............. I counted I have at least 100 sheet masks for face and eyes. These babies excludes my sleeping packssssssssss. -________________- If I sell a piece at $1, and I will be $100 richer! Actually Secretive usually sponsors a box of 5, maybe I can do a giveaway next time... that is if any people really bother to come here! lol lol lol. I usually pass the mask to mom and er jie....
HEY YOU... beautiful reading this! I hope you had a great day, if not tomorrow will be definitely better! *HUGS*
Woohoo, I had
R
A
I
N
B
O
W
cake from Medz at Orchard Central! Been wanting to take a photo of it (instead of eating? >_<) ever since I saw it in tumblr!!!!! SO CUTE!!!!!! I will eat it everyday if I know how to bake or it won't make me even fatter! Makes me feel happy and thankful just looking at it!!!!!!!
Last weekend was spent with my super beloveeeeeeeeeeeeed important person. :))))) You know I love you too much no matter how you much you irritate me. I'm sorry but I will definitely fight back no matter what, no matter when, and no matter where. LOL! Glad to see that you still look super happy~~~ lol. I LOVE YOU SUPER VERY MUCH! *muahs muahs muahs*
And yes, weekends is finally here again! GRATEFUL, THANKFUL, I'm glad I had a good week!